Barbecue Lemon Chicken in the Oven
2Bleu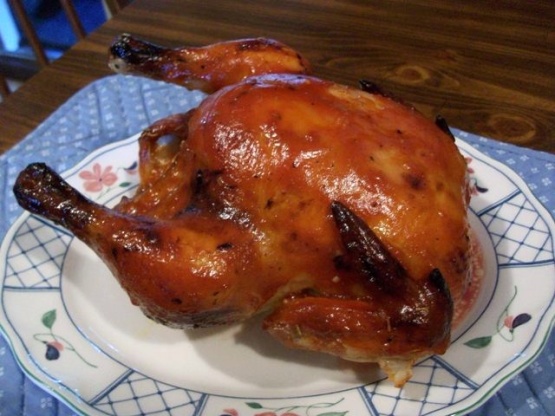 This recipe uses a whole chicken barbecued in the oven. Bring the outdoors in with this winner. Adapted from Kraftfoods.

Top Review by Ackman
This was OK...not as impressed with it as I had hoped. I think if you were to reduce the lemon zest to just one lemon, it would be better, 'cause 2 makes the sauce bitter..or maybe add some honey or brown sugar to the sauce. IDK if I'll make this again or not. THANKS for sharing, though!
Preheat oven to 350°F Cut zested lemons in half, squeeze out juice into a small bowl and set aside halves. Add zest, barbecue sauce, and seasonings to the lemon juice; mix well.
Place chicken in baking pan. Place 2 of the lemon halves along with the mashed cloves of garlic and roesmary sprig into the cavity of the chicken.
Rub skin of chicken all over with remaining 2 lemon halves and discard. Tie legs together with twine.
Bake 1 1/2 - 2 hours or until chicken is cooked through to 170F brushing with the barbecue sauce mixture every 5 min during the last 20 minutes of baking.
Remove chicken from oven, and discard lemon halves and garlic cloves from chicken cavity. Skim fat from drippings in pan, and serve with the chicken.