CoffeeB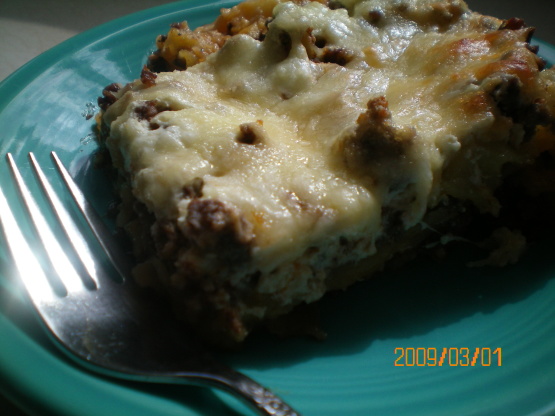 A recipe my mom found in a magazine.

This was good although I did change up a few things (not ingredients). After browning the hamburg, I added the rest of the 13 ingredients you have listed and simmered for the 10 minutes. I also do not boil my lasagna noodles ahead of time but place them in the 9x13 dry. I was concerned this was going to be too dry and so I put small bowl of spaghetti sauce on the table that I had heated up for slathering over. Only DH did this. My other DS's thought it was really good as is. The amount of ingredients listed were a bit intimidating as I usually just use a jar of Prego in my lasagna, but this went together relatively fast. I should mention too that I used 1/2 box of lasagna noodles. Thanks for a great dinner Seesko! Made for PRMR~ ETA....this would make a good BBQ - sloppy joe recipe too:-)
In a large skillet, cook beef over medium heat until no longer pink; drain. For barbecue sauce, in a large saucepan, combine the next 13 ingredients. Bring to a boil. Reduce heat; simmer, uncovered, for 10 minutes.
Spread about 1/4 cup barbecue sauce in a greased 13-in. x 9-in. baking dish. Layer with three noodles and half of the beef. Spread with half of the remaining barbecue sauce; sprinkle with half of the mozzarella, cheddar and Colby cheeses. Repeat layers.
Combine cottage cheese and egg; spoon evenly over the top. Bake, uncovered, at 350° for 50-60 minutes or until lightly browned. Let stand for about 10 minutes before cutting.