Barbecue Kiwi Lamb Kabobs
Cynna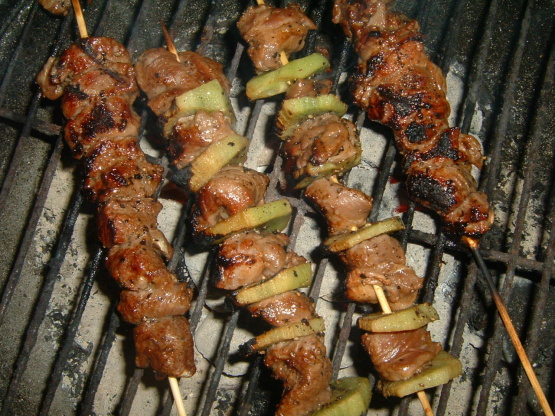 An interesting concept of using kiwi to tenderize the meat and add flavor. Found this one on a New Zealand website.

The taste was good, but the lamb actually turned to mush. I left it in the marinade for 30 min. then put it on the skewers, then it sat for another 30 min. So no more than an hour total. Next time I'd put the meat in the marinade for 10-15 min, and then straight on the grill.
Halve the kiwi and scoop the flesh into a small bowl; mash well with a fork until smooth.
Add the mashed kiwi and remaining ingredients in a large ziptop bag to marinate. Leave at room temperature for about 20 min, no longer than 1 hour. (Kiwi acts as a tenderizer and if mixed with meat for several hours can make it too soft.).
Drain the lamb and thread onto skewers that have been soaking in water.
Grill on high heat for 5-7 min, turning skewers to brown the lamb on all sides. Do not over cook.