Barbecue Kielbasa and Beans
Parsley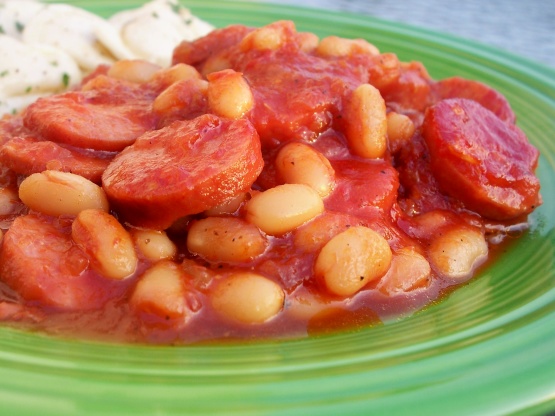 This is definitely one for those nights when you don't have much time to prepare dinner. It needs to bake for one hour but it's so fast to put together, that you could get it ready in the morning, and refrigerate until you get home, then just pop it in the oven. Very delicious and amazingly easy, what more could you ask for? From Heirloom Recipes, submitted my M.R. She suggests 2 pounds of kielbasa for 6 servings. I cut it down to one pound for us, but followed the rest of the recipe to have a fair amount of beans for a side dish. She also says you can make this in a slow cooker.

This was great and so easy! I did make some modifications, but I believe I didn't compromise the intention of the recipe. I only used 1 lb. of kielbasa and substituted the crushed tomatoes with a 14.5 oz can of diced tomatoes with peppers and celery. I also used diced onions with diced green peppers. I'm glad I didn't use the crushed tomatoes because casserole had plenty of liquid! I served this over rice and everyone loved it! I will definitely be making this again1
Heat oven to 350°.
Grease a 3 quart casserole dish.
Mix all ingredients in a large bowl.
Pour into prepared pan, cover and bake for 1 hour.