diner524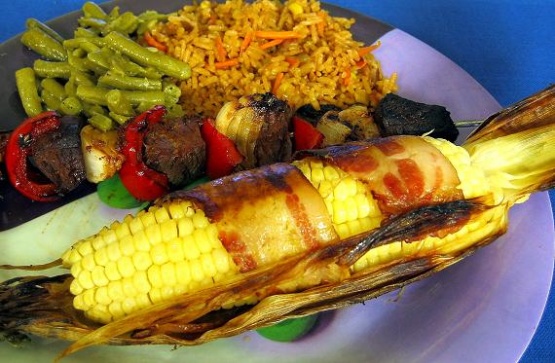 Whole corn wrapped in bacon cooked on the BBQ. From the Australian BBQ Kettle Cookbook.
Yummy!!! Made this to go along with recipe #184441 and recipe #94211 and what a fantastic dinner we had last night!!!! I followed the recipe as stated, but after being on the grill for about 15 minutes, I covered them in foil for the rest of the time. I think the bacon helped prevent the corn from getting dried out, which normally happens to me when grilling it!! Thanks for a great recipe!!!
1

corn on the cob, per person

1

teaspoon butter (to taste)
salt and pepper

1

slice bacon, per person
Turn back the husks of the corn and remove the silk.
Brush the corn with butter and season with salt and pepper.
Wrap the corn with the bacon rashers.
Return the husks into position over the corn.
Tie the ends of the husks with string.
Place them on the BBQ and cook them with the lid on for 30-40 minutes.