Barbecue Chicken Quesadillas
Nif_H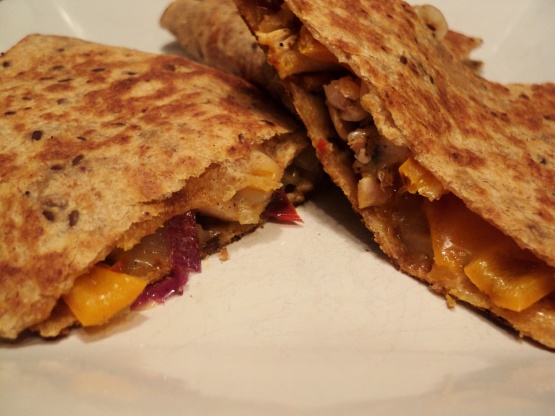 I've been making these for years. I love it when I have leftover chicken, so I get to make these! I've also made them with leftover turkey. Ingredient amounts are approximate. Feel free to adjust to your liking!

OMG... I made these quite awhile ago... July 8th to be exact. I made them and was raving to another reviewer (pammyowl) about how great they were, so she decided to make them, also. I used some left-over chicken and bottled BBQ sauce. I did not heat them in a pot or pan, I zapped it in a bowl in the micro-wave while I was sauteing the bell pepper & onion (time saver and less mess). I did not use cilantro. The only ingredient that was different was that I used "Pepper Jack" cheese instead of "Monterey Jack" (it was what I had at the time). After sauteing the veggies, I wiped out the non-stick skillet with a paper towel and did not add butter to the tortillas (not needed, in my opinion). I love almost any quesadilla that I have made or ones that I can get my hands on, but never once thought of BBQ Chicken as an option! Hubby & I loved them! Thank you for posting. (Made for "Name That Ingredient" tag)
Saute onions and bell peppers (if using) in pan with butter. Remove from pan and set aside.
In another pan heat through shredded chicken with bbq sauce.
Lightly butter one side of a tortilla.
Place butter side down in saute pan.
Quickly add some of the cheese, chicken and onions (peppers and cilantro, if using) to one half of tortilla. Then quickly fold in half forming a semi-circle.
Continue to cook until bottom side is golden brown, then carefully flip quesadilla over.
Brown other side and remove from pan.
Repeat with remaining ingredients.
Cut quesadilla into wedges and serve with additional barbecue sauce.