karen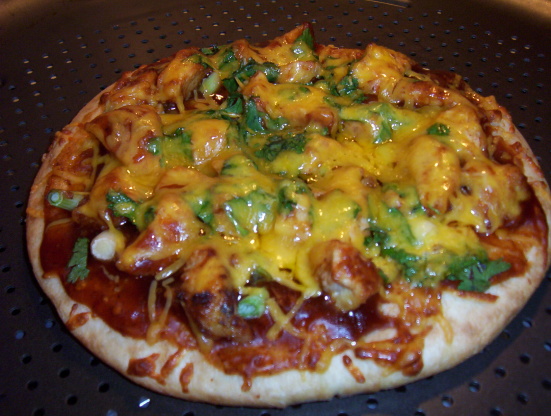 Kroger ran out of Boboli so I experimented by substituting some small flour fajita-size tortillas. Fluffy ones. Turns out these make the dish not only healthier, but possibly even better tasting! They bake up nice and toasty crunchy without being fatty or processed. Reduce cooking time to 7-8 minutes this way. Love this recipe.
Place baking sheet on rack in oven and preheat oven to 450 degrees.
Toss the chicken with 1/4 cup barbecue sauce. Spread remaining barbecue sauce on pizza crust. Spread half of cheese on crust. Arrange chicken evenly over crust. Sprinkle with remaining cheese, red onion, green onion, and cilantro over pizza.
Transfer pizza to hot baking sheet. Bake until bottom of crust is crisp and cheese on top melts, about 14 minutes.
Let pizza stand 5 minutes before cutting.