Peter J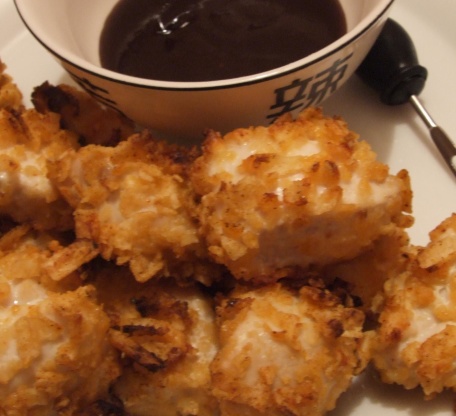 sounds really yummy! found this online

I just made this for a quick football-watchin' lunch. It was so fast and easy to make, and it definitely opened up a world of possibilities! I thought it needed a little more flavor, so next time I will season the chips---or, maybe I'll use BBQ sauce rather than egg as the "glue." Then, there are so many different flavors of chips to try!! I will definitely be making this again!
Preheat oven to 400°F.
In a shallow bowl, whisk egg and milk.
Place crushed potato chips in another bowl. Dip chicken into egg mixture then roll in chips.
Place in a single layer on a greased cookie sheet. Bake for 10 to 15 minutes or until juices run clear.
Serve with barbecue sauce.