Boomette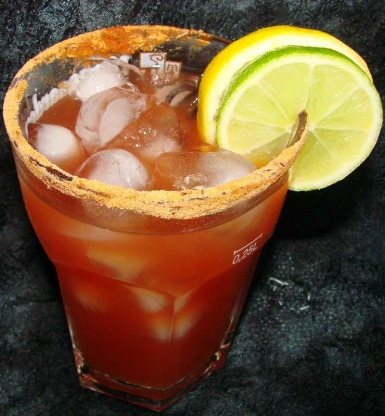 A Canadian Classic cocktail and perfect pre-dinner appetizer! This is made even tastier if you use a hot pepper infused Vodka.
I don't want to give stars. Cause since DH can't eat too much sodium, I used seasoning salt (no sodium) on the rim of the glass. Same thing for Clamato (too much sodium), so I used a 8-vegetables cocktail juice. It was not as good as a full sodium caeser cocktail LOL Thanks BeautifulBC. Made for the Babes of ZWT4
Place lime juice in saucer or small bowl. Make sure top of glass will fit inside.
Place celery salt in saucer.
Dip glass in lime juice just to wet rim. Dip rim into celery salt.
Fill glass with ice. Add vodka, clamato, tabasco & worcestershire sauce.
Stir gently so as to not mar rim trim.
Trim glass with a slice of lemon and a slice of lime. Pop in a hot pickled bean or hot pickled asparagus spear.