Tantric1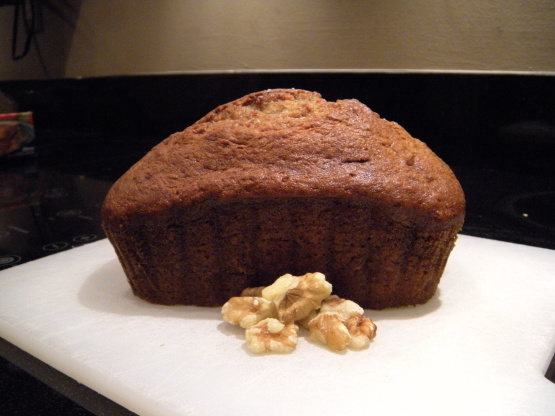 I LOVE banana bread. So, I have made it for many years. I am always looking to get the flavor just perfect! I use "old" bananas. The upscale produce shop won't sell them, so I usually call and see if they have any. That way I can use them right away AND they sell them to me super cheap! I usually bake around 150 mini loaves to include in my Christmas Goodies Bags. I like my recipes to have measurements for items, sizes for pans, and baking directions. So you will find all of that in this recipe that I have finally decided I have "tweeked" it right down to d-e-l-i-c-i-o-u-s.

I made this with full sugar and fat for DH who isn't into "Diabetic" food. It came out looking quite nice (I made a single loaf) and with a good texture when cut. When he had finished a thick slice I ask him for a rating and he said "I'd give it a 3". Since I'm not eating this loaf I'll let his rating stand and I'm sure that his opinion is as valid as anyone's would be. Oh, and I did skip the nuts as DH doesn't like them. Made for Pic A Chef, Spring 2013.
Preheat oven to 350 degrees.
Cream together Crisco and sugar.
Add eggs, one at a time, blend thoroughly.
Add to mixture the mashed banana and water, blend.
Add all remainly dry ingredients, blend with mixer thoroughly.
Now add flour and scrape sides of bowl mix until well blended.
Add in walnuts and stir again.
Spray the BOTTOM only of what ever pan you have decided to use (I generally make mini loaves).
Fill the pan between 1/2 and 2/3 full.