Bangers and Mash With Onion Gravy
Prep 30 mins
Cook 45 mins

Here's another of those William-Sonoma recipes I want to try when I get a chance. Sounds like a great fall recipe to me, real comfort food. The site says that The British sausage became known as a banger around World War I, probably because ti spluttered as it fried. Don't know if that's true or not, but the addition of the wine to this recipe has got to make it a winner in this house. Don't know how to separate the sections of this recipe in the ingredients, so the sausages, mash (potatoes) and gravy are listed together in order. As an update, finally got to try this and yes; it's real comfort food, with a rich, robust gravy. Nice for those cool Fall evenings and pretty simple to make.
Directions
Preheat oven to 400.
Place sausages in a roasting pan, drizzle with sunflower oil and toss to coat.
Spread sausages out in single layer and bake, turning after 15 minutes, until evenly colored, about 30 minutes.
Meanwhile, make the mash: Peel potatoes and cut into large chunks. Place in saucepan with water to cover, salt water and bring to boil over medium heat.
Cook until potatoes are tender when pierced with a knife, about 15 minutes.
Drain, cover with a kitchen towel and let stand until dry, about 5 minutes.
In same pan over medium-high heat, combine milk and butter and bring to a boil.
Remove from heat and set aside.
Place potatoes in a bowl and mash. Add hot milk mixture and beat until smooth. Season with salt and pepper to taste.
To make gravy, in a wide shallow saucepan over medium-low heat, melt the butter with the olive oil. Add onions and cook, stirring requently, until they are soft, about 20 minutes. Stir in flour and cook until lightly colored, 2-3 minutes. Stir in vinegar and cook until evaporated. Stir in red wine and stock, increase heat to medium-high and bring mixture to a boil. Reduce heat to low and simmer until a rich sauce forms, about 10 minutes.
Season with salt and pepper to taste.
Divide sausages and mash among individual plates. Spoon gravy on top and serve immediately. Pass remaining gravy at the the table.
Most Helpful
This was a really tasty meal that gave me an alternative way to prepare my favorite sausage - the Irish banger. I had some small ones that I used for this recipe. I made this exactly as posted, and the potatoes came out very nicely. The gravy was really flavorful, though, and is what elevates this recipe to new heights. I used Shiraz, as suggested, which added a lot of flavor. I will definitely make this again! Made for ZWT 8.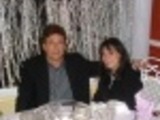 Wonderful, just wonderful! I made exactly as written except I didn't have the red onion so I used yellow ones. I used a spicy pork sausage that I bought from our local butcher. We like our sauce a little thicker so I added a Tbs. of cornstarch mixed with an equal amount of water. We all enjoyed our meal very much. Thanks for sharing. Made for ZWT 6.
These are a classic.. I don't add the wine & they still turn out perfect. Thanks for posting (^o^)