Bang Bang Shrimp - Copycat from Bonefish Grill
Ashley Cuoco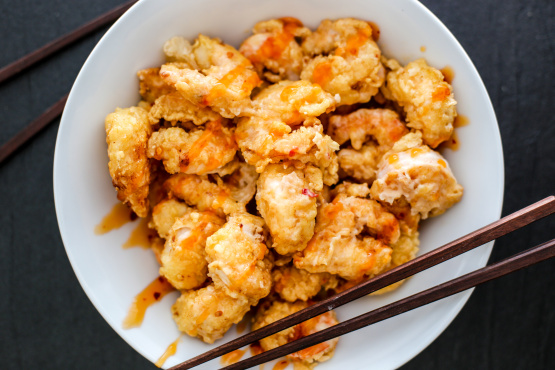 We had these at Bonefish Grill. They are a great app. Since then, I have been trying many recipes looking for one that tastes close. This is the best that I have found. Sometimes I fix these and just serve with a salad for lunch - very delicious!

This is close to the actual recipe for bang bang shrimp. How do I know, I work there and know the exact recipe. The sauce is mayo, mae ploy brand sweet thai chili sauce and garlic chili sauce (hoy fong foods brand). Shrimp are soaked briefly in buttermilk and tossed in seasoned flour.

No peanut butter, no sriracha. I won't give the measurements though but i promise you those are the ingredients. The author of this recipe is very close tho.
Mix mayo and sauces for coating.
Bread shrimp in cornstarch.
Deep fat fry the shrimp until lightly brown.
Drain on paper towel, put shrimp in a bowl and coat with the sauce.
Serve in a lettuce lined bowl, top with chopped scallions.
-----------------------------------------------------.