Bang Bang Chicken (Szechuan)
loof751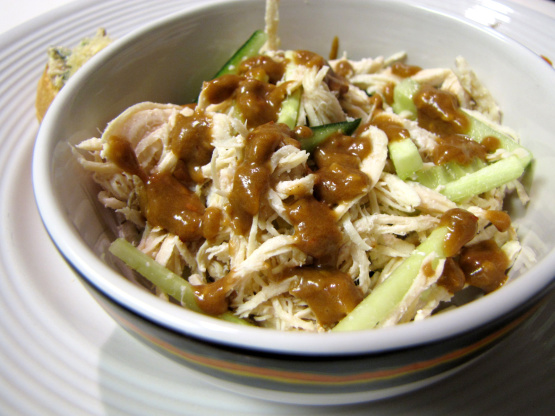 This comes from "1000 Classic Recipes for Every Cook". Found on my search for ZWT recipes.
This is delicious! The only change I made was I used 3 small chicken breasts... Made for ZWT # 6!
Bring the water to a rolling boil in a wok or large saucepan. Add the chicken pieces, reduce the heat, cover and cook for 30-35 minutes.
Remove the chicken from the pan and immerse in a bowl of cold water for at least 1 hour to cool it.
Remove the chicken pieces, drain and dry with paper towels. Take all meat off the bones.
On a flat surface, pound the chicken with a rolling pin, then tear the meat into shreds with 2 forks. Mix the chicken with the shredded cucumber and arrange in a serving dish.
To serve, mix together all the sauce ingredients until thoroughly combined and pour over the chicken and cucumber in a serving dish. Sprinkle some sesame seeds and chopped scallions over the sauce.