flower7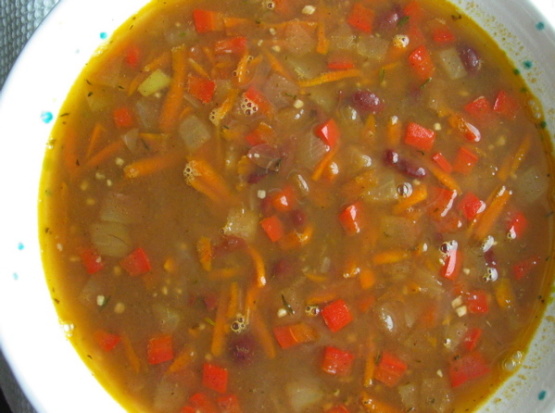 I couldn't find a Black Bean Soup recipe I liked, and I'm lazy, so I use canned beans. You can tweak the spiciness to your taste! To make this a vegetarian/vegan version, just leave out the bacon or use soy bacony bits, and use a vegetable broth. Super yummy either way! *NEW* Edited out the Oops's-- thanks Reviewers!! :D

This was a very unusually spiced soup - very different from any other black bean soup I've ever made. I quite enjoyed it! I halved the recipe and used the oil instead of bacon option. I also used red instead of green pepper and left out the celery. The lesser amount of cayenne was perfect for my taste (spicy but not overly so). Thanks for the recipe!
In a large pot, fry bacon until crisp, set aside. (or just heat the pan and add olive oil).
In the remaining bacon grease (or olive oil) saute the onion, garlic, carrot, pepper & celery about 5 minutes, until fragrant.
Add chicken stock, water, lime juice, beans, bacon(or not bacon), and spices.
Bring to a boil, lower heat, and let simmer for 25 minutes, stirring occasionally, until veggies are tender.
Being very careful not to get splashed by hot soup, take your potato masher, and mash the soup. You could take some out and run it through the blender, but this works just as well, and is less dangerous. Stir between mashings, and don't think you have to puree it, it's nice with some bits!
Serve hot, we like it with cornbread!