alligirl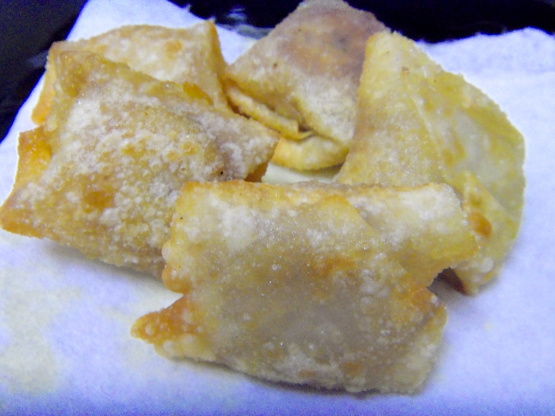 I was invited to a fondue party and wanted to bring something different. I had remembered seeing something about banana wontons, but did not remember the specifics, so I decided on something simple, as I knew the oil fondue pot would also be used for meat and veggies. I love how the banana becomes almost custardy in consistency. They were a hit with both the adults and the kids at the party, some of whom popped the fried wontons into the chocolate fondue pot. Yield depends on the exact size of your bananas, of course.

This recipe was so much fun to play around with. I decided to make this because it reminded me of what my mom use to serve my siblings and I for breakfast while growing up (sliced bananas in a bowl of milk with sprinkled cinnamon/sugar on top). I always have a sugar/cinnamon Tupperware container in the cabinet (we use it on toast quite often, so I make about a cup at a time and store it). I sliced the 1st banana and followed the instructions exactly. Fabulous! The other banana I decided to combine the thoughts of the other reviewers, and got somewhat creative! (Instructions said to try various ways, right?) I sliced the 2nd banana 'very thin'. I also had leftover frozen, sliced strawberries that were already thawed and soaking in a simple syrup (that I had made for a different recipe). I grabbed a leftover, solid milk chocolate Easter bunny and grated him up. Took a handful of mini marshmallows and used a rolling pin to smash 'em kinda flat. (Can you see where I'm going with this?) Here is what I did... I took the sliced banana and strawberries and coated them in the grated chocolate. In the center of each wonton wrapper, I place a chocolate coated banana slice, then a smooshed marshmallow, then the chocolate coated strawberry slice and closed them up! OMG... These would be terrific for a kids finger food! (I even got out my whipped cream to dip them in)! I had a WONDERFUL breakfast this morning!!! :) I love the original version with just the cinnamon/sugar (very tasty), but the 2nd batch was to die for! Thank you so much for posting this recipe. Definately making these again... with many variations! (Made for PRMR - Spring 2013)
Slice the banana into slices about 1/2 inch thick. You want to have the wonton wrapper surround it completely, and if it's too thick a slice, it won't.
Mix the sugar and cinnamon in a small bowl.
Have a small bowl of water ready.
Place the wonton wrapper on your work surface.
Dip the banana into the cinnamon sugar and place in the center of the wrapper.
Fold one corner over the banana slice. Moisten the next corner and fold it over the first corner, pressing gently. Repeat until all four corners are folded over.
Repeat with remaining bananas and wontons. You might need more cinnamon sugar, depending on how generous you are, I used just a bit per slice.
Heat oil in a saucepan or wok until medium hot, around 350 deg.
Drop in a few of the wontons. They should cook in under a minute, and you might need to help it turn over onto the other side, once the first side is golden.
Remove with a skimmer and drain on paper towels.
If you are not further dipping these into a chocolate fondue, then you might want to sift a little powdered sugar over these.
Note: lots of variations are possible - a dab of Nutella under the banana slice, some coconut flakes, a dash of nutmeg or cardamon in the sugar.