ImPat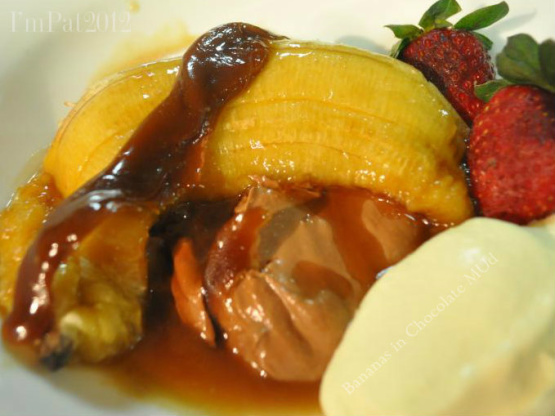 With a name like that how could I not try it? I got this from a cookbook called Australia Wide Cookbook by Valwyn McMonigal I learned that bananas were introduced to NSW and yields apx 152,000 tons a year! They cover the bunches with blue plastic bags to protect the bananas from sunburn. Enjoy!

Top Review by ImPat
I made this for the DS and DM so made as a 2 serve dessert (I did.not use chocolate shavings but did serve with cream and strawberries), I used the microwave for the recipe but had issues for a 900 watt oven the mixing of the melted butter (previously melted it before adding to the brown sugar etc.but felt that 3 minutes was too way much as it melted it to candy status once baked with the bananas). The mud sauce I did in 30 seconds and took 1 minute 30 seconds but in the rush of serivng forgot the sour cream so ended with a thick mud sauce that was enjoyed by the DS and DH. It wasn't till I went to review that I had erred and cooked the bananas for 10 minutes in the microwave which was much to long and they sort of collapsed a little but the DS and DM gobbled up the lot and really enjoyed, thank you for an occasional treat dessert for the DM and DS, made for Make My Reipe - Renuion Ediition.
Preheat oven to 180*c/375*f.
place whole peeled bananas in an ovenproof dish.
Combine melted butter, brandy and brown sugar together in pan, stir until sugar has dissolved. Pour over bananas and bake 10 minute.
(microwave directions: microwave on high for 3 minutes).
Chocolate Mud Sauce:.
melt chocolate over pan of hot water, stir in butter and remove from heat. Add vanilla and sour cream.
(microwave directions: combine chocolate, butter and vanilla and cook on high 1 - 2 minutes, add sour cream).
To serve, pour chocolate mixture into serving dish, carefully lift 1 banana on top and drizzle with the butter mixture (from cooking the banana). Top with shaved chocolate and a strawberry
Serve while warm.