Bananas Foster French Toast
momaphet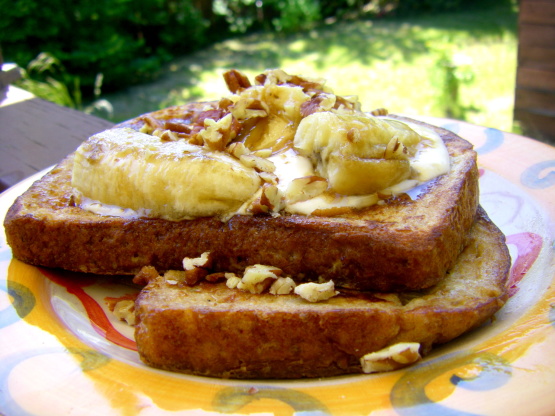 What a splurge, by Paula Deen of course!
I used the topping from this recipe with Recipe #284545 as I didn't have any croissants. The bananas were good though very sweet, using a little cream to cut the sugar, as I've found in other recipes similar to this, might help as it was a little cloying. Also, the syrup set up and got very thick so I added a little butter at the end, and used real dark rum in place of the extract. I served this with Recipe #22237, the tang made a nice contrast to all the sugar. Thanks for sharing your recipe cookiedog. Made for ZWT 5 for the Cooks With Dirty Faces.
In a shallow dish, whisk together eggs, cream, and cinnamon. In a large skillet, melt 2 tablespoons butter over medium-high heat. Dip 4 croissant halves in egg mixture to coat both sides. Using a fork, remove croissants from egg mixture, letting excess mixture drip off. Place croissant halves in hot skillet. Cook 2 to 3 minutes per side or until lightly browned. Repeat procedure with remaining butter and croissant halves. Set aside and keep warm.
In a large skillet, combine corn syrup, brown sugar, maple syrup and pecans. Bring to a boil over medium-high heat. Reduce heat, and simmer for 2 minutes. Add banana halves and rum extract. Coat with the syrup mixture, and simmer 1 minute. Spoon over French toast. Serve immediately.