Annacia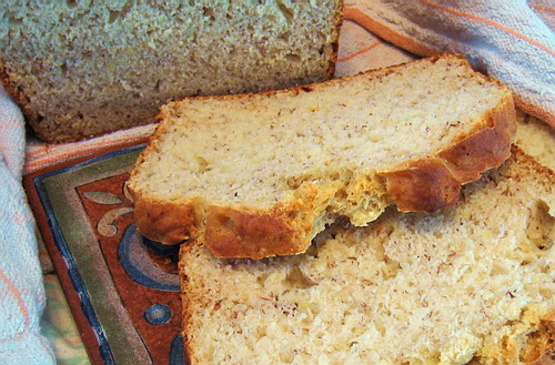 I found this on Diabetic Delights web site. Posting for safe keeping

I must confess that I made a variant of this recipe, but it turned out wonderfully. I substituted pumpkin for the banana, canola oil for the butter, 2 whole eggs instead of egg whites 1 egg, increased the sugar to 3/4 cup, and substituted 1 tsp cinnamon, 1/2 tsp nutmeg, 1/4 tsp ground clove, and 1/4 tsp allspice for the vanilla. I also added 1/2 cup of golden raisins to the second batch, which worked well. My loaves took slightly longer than an hour at 350, but were perfect at that point. This will definitely be made again!
Combine flour, baking powder, baking soda and salt in a large bowl; make a well in center of ingredients.
Combine yogurt, banana, sugar, margarine, egg whites, egg and vanilla; add to dry ingredients, stirring just until dry ingredients are moistened.
Coat a 9 inch loaf pan with cooking spray, sprinkle with 2 teaspoons flour.
Spoon batter into prepared pan.
Bake at 350 degrees for 1 hour or until a toothpick inserted in center comes out clean.
Let cool in pan for 10 minutes, remove and finish cooling on wire rack.