DuChick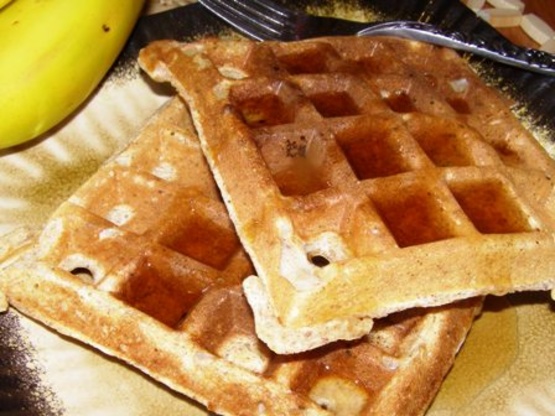 From the Better Homes and Gardens cookbook. Delicious waffles for breakfast (or for any other meal)!

We loved these! Made half a recipe since we don't have many mouths to feed here. Modifications: Added a splash of lemon juice for brighter flavor and less banana-browning. Used coconut milk beverage because of milk allergies, reduced nutmeg to a shake or two and added cinnamon. I made the recipe for waffles the first time (loved them) and for pancakes. When I made pancakes, I made the above modifications plus added half an apple, finely chopped, and substituted apple sauce for the oil. Delicious!
Combine flour, baking powder, nutmeg, and salt in one bowl.
In another bow, beat egg yolks slightly. Beat in milk, bananas, and oil.
Add egg mixture to flour mixture all at once. Stir just till combined but still slightly lumpy.
In small bowl, beat egg whites until stiff peaks form.
Gently fold beaten egg whites into flour mixture, leaving a few puffs of egg white. Do not overmix!
Pour batter onto pre-heated, lightly greased waffle maker.
Bake waffles according to manufacturer's directions.
Serve hot and fresh. I topped mine with butter and syrup, and they were delicious!