Banana-Wheat Germ Muffins (Vegan)
Xanthia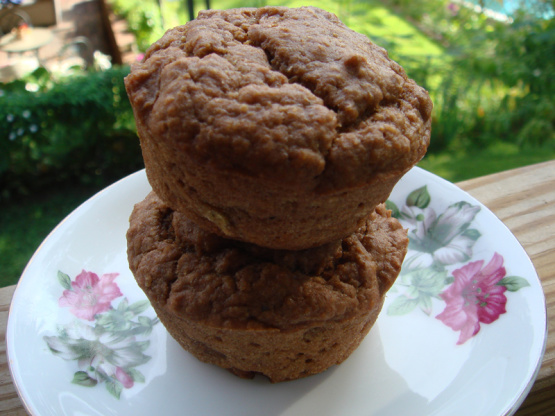 These are great for when you want a sweet treat. Not as sweet as cupcakes, yet sweeter than most "healthy" muffins (due to the bananas), these are perfect any time! The recipe is from Veganomicon.

I really enjoyed these! I did not have soymilk so I did substitute organic 2% milk with good results. (I am not vegan but was looking for something healthy and using wheat germ). Passed the real taste test around here- my husband and 2 kids both liked them too! Oh yes- I added 1/2 cup of raisins just to give them a little something extra.
Preheat the oven to 375°F Lightly grease a 12-cup muffin tin with cooking spray (or use foil muffin liners--much easier).
Pour the soy milk into a measuring cup and add the vinegar to it. Set it aside to curdle.
Meanwhile, mash the bananas in a large mixing bowl. Add the soy milk mixture to the bowl along with the oil, sugar, and vanilla, and mix well.
In a separate bowl, mix together the flour, wheat germ, cinnamon, baking powder, and salt. Add this to the banana mixture and use a wooden spoon to gently stir the ingredients, until all the dry ingredients are just moistened (do not over-stir!).
Fill the muffin cups three-quarters full and bake for 22 minutes. Remove from the oven and, once cool enough to handle, transfer to a cooling rack to cool the rest of the way. You can also serve them warm.