Annacia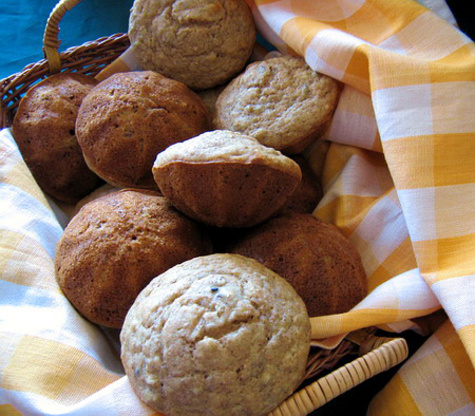 I made these up tweaking a banana bread recipe. We had them for breakfast this morning with boiled eggs and they were so good--even better for lunch. In fact, I think I'll have another one right now. Yum!
I used 1/2 cup of sugar. Only all purpose flour (white). No salt and no nutmeg. But more cinnamon. I omitted the walnuts cause I don't like them a lot in muffins. I cooked them 24 minutes just in case LOL. They are so moist and full of flavour. Thanks LizAnn. Made for Holiday tag.
In medium bowl, whisk together all the dry ingredients. In a small bowl, toss walnuts with 1 tbs of the dry mixture.
In a large bowl, beat eggs slightly.
Add remaining ingredients mixing after each addition.
Finally, add the dry ingredients into the wet ingredients and gently stir till moistened then gently fold in walnuts.
DO NOT USE A BEATER: It will make the muffins dry and hard. All the mixing should be very gentle and just enough to incorporate everything together.
Lightly spray with oil, a 12 cup muffin tin and divide batter into each one. They will be very full.
Bake at 350°F for about 22 minutes or until done.
Remove from oven and let cool 5 minutes. Remove from tin and eat now or later -- or both!