Banana Walnut Loaf (Bread Machine)
COOKGIRl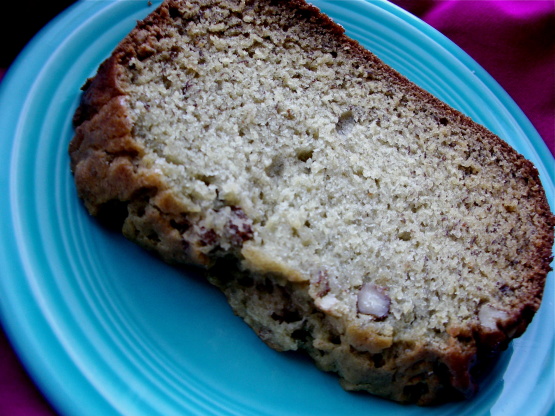 This is made in a quick bread/cake cycle - it is not a yeast bread. I have not tried it, posted in response to a request.

This is the best banana bread recipe for ABM I've found yet. I've made it twice in the last 4 days. My 5 year old loves it!! The only tweaks I made was I left out the nuts, and because I don't keep buttermilk on hand, I used 1/3 cup + 1tbsp water and 1-1/2 tbsp buttermilk powder.
All ingredients other than buttermilk should be at room temperature.
Place ingredients in order indicated in pan. Select quick bread/cake cycle and medium crust and start machine.
After batter has been mixed for 4 minutes, stir sides and bottom of pan with spatula to ensure complete mixing. Allow to continue mixing. If your machine permits pausing, remove kneading paddle before baking. Continue to conclusion of cycle.
Remove bread from pan and transfer to wire rack to cool. Bread slices best when allowed to cool.