Tisme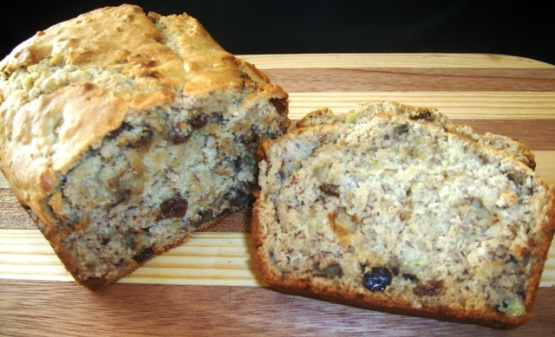 Quick easy cake to make for any occassion. By topping with a cream cheese icing, it changes from a snack to a celebration!

Top Review by Tisme
Gingerbee, such and easy recipe to make. I had a few banana's to use up, and found this recipe... what luck!!! A terrific recipe! I used a few sultana's in my loaf only because I had a few left in the packet, I also used splenda instead of sugar for DH, who is diabetic. I did cover the loaf with foil towards the ending of baking because is was browning too quickly, but loaf turned out very moist and tasted great..... even with the splenda! I didn't top the loaf, it tasted nice enough without it. DH loved it and a bonus for him it has walnuts which he also loves! A keeper here Gingerbee.. Thanks.
Mix sugar and shortening until light and fluffy.
Add egg one at a time, mixing to incorporate well.
Add mashed banana.
Mix all dry ingredients together and add to wet ingredients 1/3 at a time.
Add vanilla.
Spoon into well-greased loaf pan 5" x 13".
Bake@ 375 degrees for 45 minutes or until a tester comes out clean.