Banana Walnut Cupcakes With Cream Cheese Frosting
Prep 15 mins
Cook 20 mins

Stated by several as the best thing I have ever baked... these are soooo good, and the frosting is the best cream cheese frosting I have come across yet.
Directions
Cupcake batter: Cream butter and sugars, add mashed bananas. Add eggs and vanilla. Add flour, baking soda and salt. Stir in yogurt. Add walnuts.
Scoop into 12 cupcake papers (I used an ice cream scoop.) Bake in a preheated 350 degree oven for 18-22 minutes, or until a toothpick inserted near the center comes out clean. Mine took 20 minutes.
Frosting: Whip cream cheese, vanilla and confectioners sugar, by hand or electric mixer.
Reviews
Most Helpful
Delicious! It was a giant hit and everyone thinks I am a hot shot baker after tasting these little treats. Some suggestions-- when your bananas get ripe and ready, and you are not, freeze them! It makes it super easy to thaw and throw together when you want banana baked goods. Also, I put frosting in a ziploc Baggie and snipped the end about a half inch, making the perfect piping bag. They came out gorgeous! -- followed recipe perfectly, and mine made 16 instead of 12... Cooked in 22 mins for clean toothpick, and were VERY moist. Toasted the walnuts to bring out their flavor more, and this is a step I wouldn't skip, totally worth it. Just don't burn them, yuck. Oh, best to cool them in the fridge so they are chilly before adding frosting, since the melting point is super low and it'll get runny. I frosted mine up and then put back in the fridge for an hour, so the frosting could set and get a little hard layer on top. Worked out perfectly. Thanks for sharing, great recipe!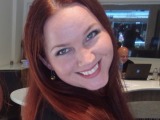 These cupcakes are wonderful. I tried them for Thanksgiving and they were a hit. I followed the recipe as directed using three bananas for the cup cakes and I also had more than twelve cakes. I also made the cream cheese frosting but I used less sugar only because I like less sugar in my cream cheese frosting, but it was great the first day and the second day. I will definitely be making these cupcakes a lot.
These may have tasted a little more like muffins, than cupcakes, but that was just fine by us! The recipe made 17 cupcakes for me, but I probably could have made them a little bigger. Still would have had more than a dozen, which was a bonus! We enjoyed them immensely, and will be making them again! Thanks so much for sharing a great recipe, missyqh! Made for Fall PAC 2011.