Hanka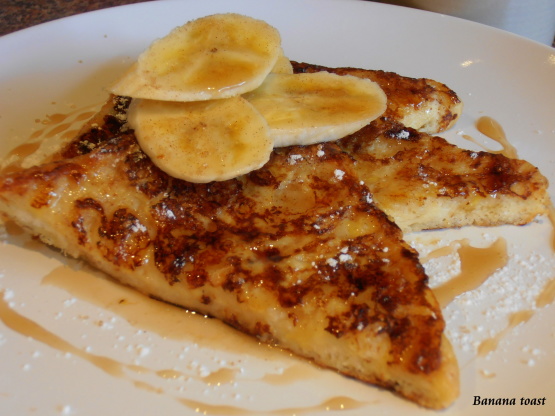 Ohhh this looks and sound so yummmmmy. Banana's are a little expensive at the moment, so am posting this to try when they are cheaper.

Top Review by Hanka
I would give 10 stars if I could! What a great idea to put mashed bananas into egg mixture. I even spread some mashed bananas on toast before I soaked them to get more banana flavor. I must admit I fried them in little-bit butter-oil :) then cut them into triangles garnished with more bananas, cinnamon sugar and drizzle with syrup. What a delicious treat! Now we might have this more often than our pancakes mornings! Thank you Tis for wonderful recipe!
Heat frying pan and spay on some cooking spray.
Mix eggs, banana, cinnamon and milk. Dip the bread in the banana mixture and fry until bread is golden brown.