Sue S.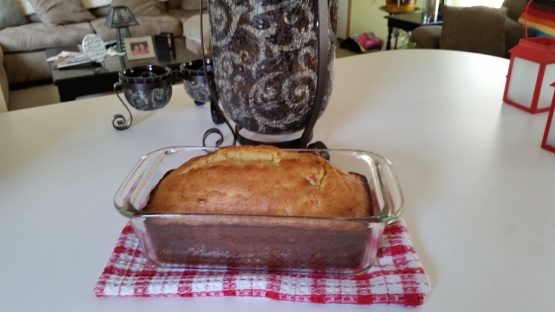 Wanted a very easy recipe for guests in the afternoon...and this was it! Very easy and simple. I did make some alterations though. Instead of using all white sugar, I substitute half of the specified amount with brown sugar. It gave a nice rich brown texture. Also, instead of shortening, I used half butter and half vegetable oil. Tasted very good. Thank you for posting it. A definite 5 star rating!
Preheat oven to 350 F.
Sift flour with baking powder, soda and salt.
Keep aside.
Cream shortening until light.
Then, add sugar gradually continuing to cream until fluffy.
Beat in eggs.
Add flour mixture alternately with bananas beginning and ending with flour.
Spoon into a well-greased loaf pan and bake about 1 hr 10 min until loaf pulls slightly from sides of pan and is springy to the touch.
Cool upright in pan for 10 min then turn out on a wire rack and cool before slicing.