Brenda.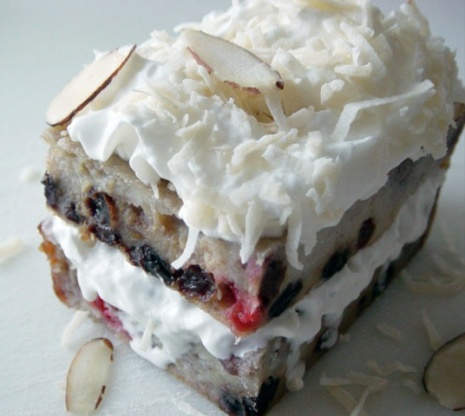 This is another banana dessert from the Turbana Corp. I haven't tried this one, but it sounds yummy to me & looks easy to fix too. I hope to try this soon. If you beat me to it, I hope you enjoy it!

This dessert is almost bread pudding like in texture (If I did it right lol) The bananas make this so moist that Twissis and I thought maybe 1/4 lb (1 stick) of butter was enough. I used pecans and maraschino cherries. It was delicious hot out of the oven and would have been great if I had vanilla ice cream on hand. I recommend serving this while slightly still warm from the oven. We served it up with cool whip, coconut and a few sliced almonds, it was yummy! Thanks for sharing Twissis. Brenda (Nick's Mom)
Preheat oven to 400°F.
Cream butter & sugar. Roughly slice ripe bananas & beat well into butter/sugar mix.
Add eggs 1 at a time & beat well.
Add milk, vanilla, lime juice, rum, honey & flour. Mix well.
Add raisins, cherries & nuts, blending just enough to distribute well thru mixture.
Turn out mixture in a 9x13 in baking dish & bake for 45 minute (NOTE: Cooking time can vary from oven-to-oven. Ck for doneness by the toothpick method. If not dry, cont to cook till done. If toothpick comes out dry, remove from oven & allow to cool.).
Cover top w/Cool Whip, sprinkle w/shredded coconut & refrigerate till ready to serve.