Banana-Stuffed French Toast Sunday Morning Yummy!
karen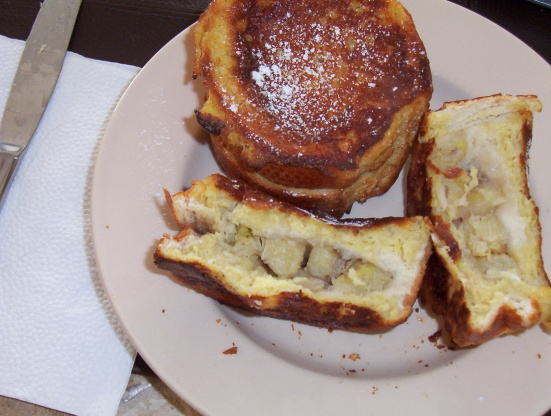 This a great French toast recipe for even the most picky eater! Awesome for a Sunday morning family brunch with mimosa's and omelets!

Top Review by karen
This is a great breakfast and would be perfect for overnight guests. I've never made stuffed french toast before, and it was very easy. I was thinking that I can eat more than the 2 slices listed as a serving, so I cut the recipe in half. I was wrong! The slices are so think that 2 slices is all you need per person. I did find that I could only get 3-4 slices of banana into each bread pocket, but that was plenty for me. For the half batch, I used 2 eggs, 1/4 cup milk, 1 tbsp syrup and 1/2 tsp nutmeg. I also soaked the slices one at a time in the same bowl that I used for step 4...less clean up, and I coated the baking pan with cooking spray. My only suggestion for a change is to add butter to the ingredient list. I think it is a necessary ingredient, and I always read the ingredient list when deciding what I want to make. I would hate for someone to have gotten halfway through the recipe and realize they don't have (or eat) butter! Oh..and I fried up the extra egg mixture into a little scrambled eggs while I was waiting for the toast to finish baking. Tasty!
Preheat oven to 400 degrees.
Insert a small sharp knife into the side of the crust and carefully cut a small horizontal pocket directly into the middle of each slice of bread.
Stuff each slice with 6 slices of banana.
In a bowl using a whisk, beat the eggs, milk, syrup and nutmeg until foamy.
pour into a shallow bowl.
Soak each stuffed slice until soaked; turn once.
Melt butter in a large skillet and sauté over medium heat until lightly browned; turn once.
Transfer slices to a parchment lined baking sheet and bake for 15 minutes and dust with powered sugar and serve fast!