diner524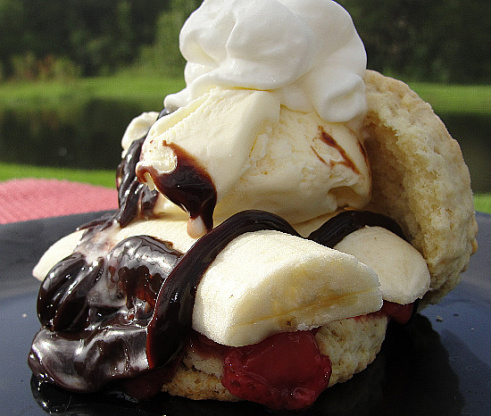 I found an old 1999 Woman's Day magazine pull-out and they had many different variations of shortcakes. I made all but 4 of them at some point. Here is another winner in my family's eyes. Allow time before serving to assemble the dessert as these have to be put together just a few minutes before serving or the ice cream will melt.

Great dessert, made as written using strawberry ice cream. Kids really enjoyed the sauce, and halved this for the 4 of us. I had a minor problem around step 14, though as the bottoms were slightly burned, may be my oven though. Anyway the 4 of us had our share, and we enjoyed. Made for a nice dessert, and this is one I will try again, cutting down on the cooking time a minute or two during that step, and see what result I get. Something to try during lunch later this week for myself. Just need to check the cooking time. Made for Rookie Tag.
Heat oven to 400°F Chill one cookie sheet and have ready another cookie sheet.
Drop 8 scoops of ice cream onto chilled cookie sheet and place in freezer.
For Strawberry sauce:.
Put sauce ingredients into a small saucepan, stir to mix.
Bring to a boil over medium heat and boil, stirring occasionally, until thickened.
Reduce heat to low and simmer 2 minutes, stirring occasionally.
Pour into a bowl, cool, cover, and refrigerate.
For Shortcakes:.
Mix together the flour, sugar, and the baking powder in a medium bowl.
With a pastry blender, cut in the butter until mixture resembles coarse crumbs.
Pour 1 c of the lite buttermilk in with the mixture and stir with a spoon until mixture clumps together and is slightly sticky, adding more liquid, a little at a time, if necessary (up to the 1 1/4 cup in total).
(Note: You can mix the shortcake dough in a processor too. Process the dry ingredients briefly to mix and then scatter butter over top and pulse until mixture resembles coarse crumbs. With motor running, add buttermilk and process just until mixture leaves sides of bowl. Remove blades.).
Drop 8 slightly rounded 1/3 cupfuls of dough 2 inches apart on ungreased
Bake 12 minutes or until slightly puffed, bottoms are brown and tops are golden.
Gently slide cakes onto a wire rack and cool completely.
Shortly before serving:.
Split shortcakes in half (using a serrated knife and gentle sawing motion makes it easier and less likely to tear the shortcake).
Place shortcake on dessert plate and top each with a scoop of the ice cream and 2 slices of banana.
Drop a large dollop or pipe some whipped cream onto top of banana.
Garnish with cherries.
Either serve with little pitchers of the strawberry sauce and the hot fudge sauce (already heated) or lightly drizzle each dessert with both sauces.