Banana Split Dessert Crepes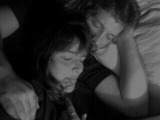 2 large crepes
2 teaspoons strawberry preserves
1⁄2 banana, split lengthwise
2 tablespoons vanilla ice cream, softened a little
2 teaspoons pineapple topping
2 teaspoons chocolate syrup
2 tablespoons ready whip whipped topping (in the can)
Directions
To each crepe, equally spread the strawberry preserves across the middle. Place 1 segment of the half of banana (flat side down) on top of the preserves. Spread the ice cream equally over each banana followed with the pineapple topping.
Fold each end over, then roll up 'crepe fashion' leaving ends open. Turn upside-down onto serving dish (so that the loose end is on the bottom).
Drizzle chocolate syrup over the crepes and top with a heaping scoop of whipped topping, top each with a cherry, and serve.
Most Helpful
So pretty and really delicious! I had to fight some fruit flies off my past it's prime banana, and once it was tucked inside this little bundle the over ripeness didn't matter. A great combination of flavors. I made 1/3 of the recipe as a little snack for myself. Great Job chef!

i really liked to see that one as i thought of it too when i saw the list of ingrediants for RSC#12 :-) I liked it but it was very rich, i think it was like 3 servings, not just one as written. I loved the cherry on the top, it looked great!