Banana Split Cookies Recipe
Iceland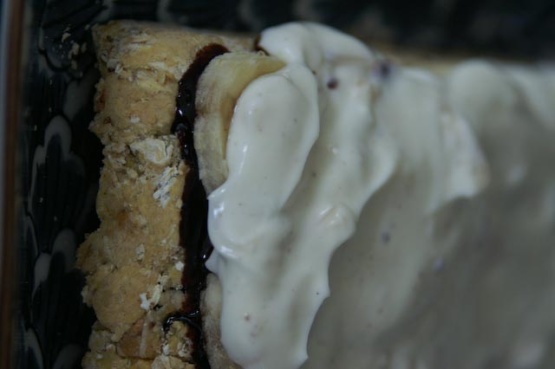 These cookies begin with a peanut butter base topped with chocolate syrup, bananas and a peanut butter whipped topping. Great for a summer day. Due to comments some changes have been made. Thank you for all your help! Made for RSC.

I really liked the topping but the bottom was dry and missing taste. It could have been somewhat crunchier for a cookie, actually, i did not really understand where the cookie was. I will make the topping again, with a different crust or just by itself.
Mix cake mix, peanut butter, oatmeal together.
Mix egg and milk together and add to cake mix blend. Blend together until crumbly. Press into a 13 x 9 inch baking pan. Bake at 350 degrees for 15 minutes. Cool completely.
Drizzle chocolate syrup over crust and top with sliced bananas.
Mix whipped topping, mascarpone cheese and peanut butter until creamy. Spread over top. Refrigerate until serving.