Banana Split Cheesecake Pie
Chipfo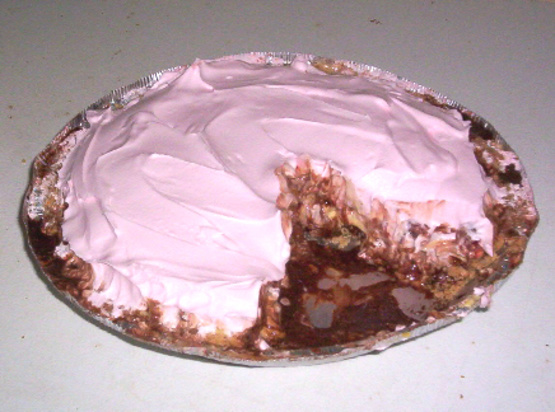 OH MY GOD.....This is to die for!...and SO EASY to make! Absolutely delish! Try it and let me know what you think!!

I've been making this recipe for years and just noticed I never reviewed it. The above picture does not do this show stopper justice! <br/><br/>A couple things I did in addition/out of order: Use a chocolate pie crust. Toast the pecans, then chop them. Makes a lot of difference. Use canned whipped cream and finish individual slices just before serving. (It's quick.) After individual serving is plated, aim the whipped cream nozzle along the back, following the crust edge. Then completely cover in a back-and-forth motion to the tip of the triangle. Then, drizzle chocolate syrup lightly (w/teaspoon) over the whipped cream, using the same motion. Sprinkle with toasted pecans and garnish with a Maraschino cherry. <br/><br/>There were "oohs" and "ahs" when this came to the table. My daughter's boyfriend actually took a picture of it before he dug in. Thanks for posting, babygirl65!
Beat softened cream cheese with a mixer until smooth. Add water, milk and instant pudding. Beat until the mixture thickens.
Drain pineapple well. Cut banana and arrange over bottom of pie shell (may have to use 2 bananas.
Drizzle with half of the chocolate syrup and half of the pecans. Spread cream cheese mixture over top.
Layer crushed pineapple over filling. Cover and refrigerate for 2 hours or until chilled and set.
Right before serving, top with remaining syrup and pecans. Garnish with whipped cream and cherries. Slice and enjoy!