------ Ready, Set, Cook #12 contest. I made this recipe all the time at the coffee/cafe I use to work for. So, it was just a natural when the same ingredients were listed for RSC:-)
Directions
Place all ingredients in a blender.
Blend on high speed for 1 full minute.
Enjoy this delicious frozen treat.
Most Helpful
This is really good! I never eat banana splits but this may change my mind. I used fresh (frozen) strawberries and a frozen banana and a very healthy squirt of chocolate syrup. Made for Zaar Stars.
Yum is this good! To make this more 'Bavarian' I subbed 2 Tbsp of vanilla instant pudding mix in lieu of the splenda. This made a very nice thick shake that yes, tastes like a banana split 'Bavarian'. :) I used regular vanilla ice cream and sugar free strawberry jam. Thanks for sharing the recipe!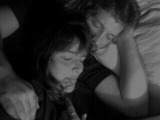 OMG! This was wonderful. Like a banana split in a glass. I used real syrup and real jelly so no splenda for me. Made this for dessert and it was so good we both wanted seconds, but I refrained. :(