PaulaG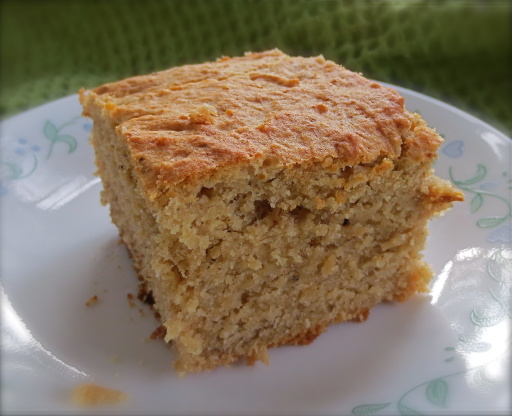 A moist, lightly spiced snack cake that needs no frosting, but is great served warm with a scoop of vanilla ice cream.

Yum! The kids wanted me to whip up an afternoon snack today, and this fit the bill perfectly for being quick to throw together and bake. I had to laugh reading Katzen's review...I am so that mom. I used 1 c white wheat flour and 1/2 c oatmeal, flaxseed for the egg, and greek yogurt subbed in for some of the butter. To redeem myself with the toddler set I sprinkled a few tablespoons of chocolate chips on top of the batter before baking. Worked out just fine! Thanks for posting :). Made for ZWT 9, Gourmet Goddesses.
Preheat oven to 350°F.
Coat a 8-inch square baking pan with nonstick cooking spray.
In a large mixing bowl, with electric mixer, cream butter (or shortening) and brown sugar. Beat in egg, buttermilk, vanilla, and mashed banana until blended.
In a bowl, combine dry ingredients and spices.
Mix the dry ingredients into the butter mixture until moistened. Do not overbeat.
Pour batter into prepared pan and spread evenly.
Bake 25-30 minutes, or until a wooden skewer inserted into middle of cake comes out clean.
Cool in pan on wire rack for about 20 minutes.
Serve warm, or room temperature.