Lalaloula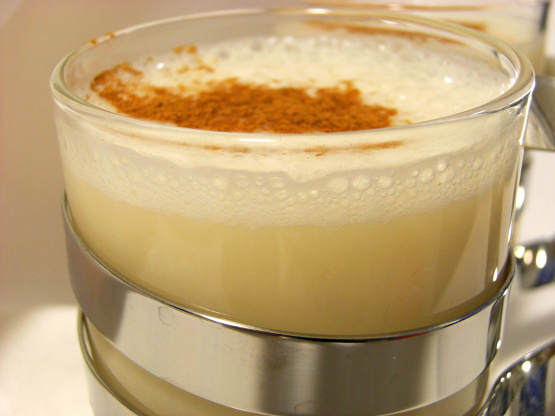 This is a smooth healthy shake/smoothie that everyone could enjoy. Little Miss (DD) loves her to drink banana shakes/smoothies so I had to slightly modify this recipe for her to be able to enjoy it. I used a very ripe banana and didn't have a fresh orange at home so I used orange juice. I used a hand held blender to pulp the ingredients together. Original recipe comes from 'The Little Book of Alcohol-Free Cocktails' by Hamlyn

What a great smoothie! This was the perfect quick, healthy and yummy breakfast! YUM! I left out the honey as my banana was very sweet and used apple juice in place of the orange. THANKS SO MUCH for sharing this keeper with us, Chef floWer!
Made and reviewed for the Aussie/NZ Recipe Swap November 2011.
Place the banana, orange juice, honey and milk in a food processor and process until smooth.
Pour over ice into 2 tall glasses and sprinkle with cinnamon.