Banana - Raspberry Bread Low Fat
Mika G.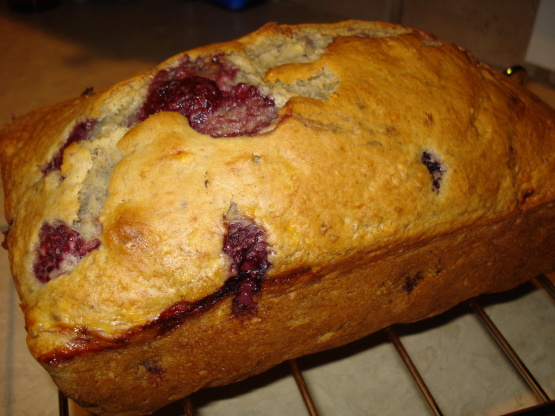 This is an excellent cake/bread recipe with very little fat. Notice there is no butter or oil, just bananas. I cut down to 2 larger bananas but it was a little dry so I did actually add just a little canola oil, but I definitely wouldn't have if I had used all 4 bananas. Also, I subbed in blueberries (frozen unthawed) for the raspberries because it's what I had. I stirred them in towards the end of the gentle mixing with a silicon spatula so they wouldn't get mashed up.

I made this as a gift and it was easy to prepare and enjoyed by the birthday girl. I got more than one "thank you" and it smelled good while cooking. Thanks!
Heat oven to 350°F Coat an 8" loaf pan with cooking spray.
In a bowl, combine flour, sugar, baking powder, baking soda, and salt; whisk to blend. Make a well in center; set aside.
In another bowl, combine bananas, milk, egg, and vanilla; fold in raspberries.
Pour batter into center of dry ingredients; fold together until combined. Do not overmix.
Pour batter into pan; bake 1 hour or until a toothpick inserted in the center comes out clean.
Cool in pan on a wire rack for 10 minutes. Remove from pan; cool completely. Slice before wrapping individually.