LisaAD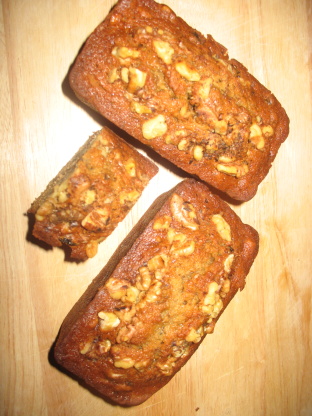 Not for kids It's true that most of the alcohol does bake off. Depends on how long the loaf is cooked. For this approximately 25% of the alcohol is retained. However, the taste may not be acquired yet by the little kiddies. I tend to have a heavy hand in the liquor department and the flavor is very apparant.
Soak Raisins in Bourbon until plump.
Sift flour, soda and salt together.
Preheat oven to 325, Cream together sugar, butter, eggs, bananas, vanilla and pecans then stir in raisins and bourbon and then add flour mixture.
Pour into loaf pan and bake for 1 hour on until tester inserted comes out clean.
Makes 1 loaf or 4 mini loafs.