Banana, Raisin, and Oatmeal Pancakes
girl6968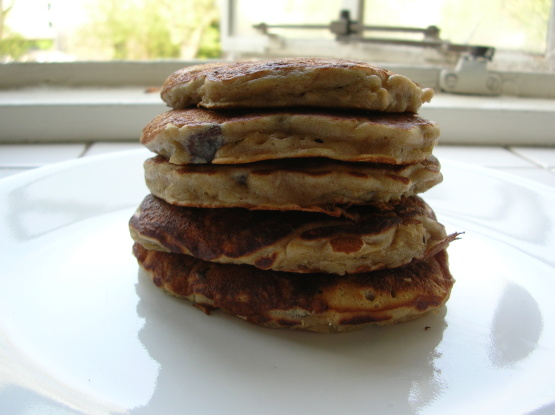 These pancakes are great with maple syrup, honey, marmalade, or even cottage cheese. The recipe comes from Bon Appetit.Cook time is for each pancake.

We loved these! I doubled the vanilla and cinnamon because I just really like them, and I don't like raisins so I used frozen blueberries instead, they were awesome, so tasty that they didn't really need a topping but we all found that they were awesome with peanut butter. I left the bananas in chunks that were quite large and we really liked it that way.
Whisk together first 6 ingredients in medium bowl.
Whisk yogurt, milk, eggs, and vanilla in another medium bowl to blend.
Whisk dry ingredients into yogurt mixture just until blended.
Fold in mashed bananas, raisins, and 1/4 cup melted butter.
Brush nonstick griddle or skillet with melted butter; heat over mediun heat.
Working in batches, pour batter by 1/3 cupfuls onto griddle.
Cook pancakes until bubbles form on top and bottoms are golden brown, about 2 minutes.
Turn pancakes over cook until bottoms are golden brown.
about 2 minutes.