Banana Pudding With Graham-Cracker Crunch
gailanng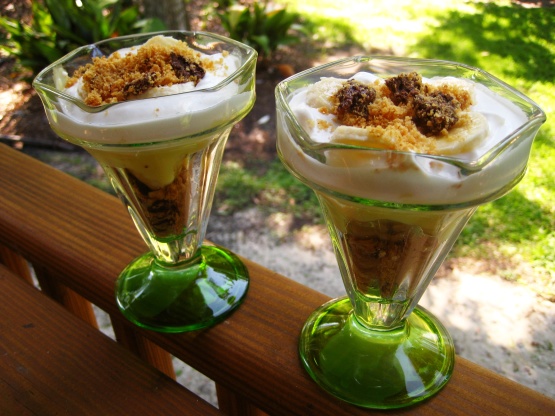 A different take on banana pudding.

Made this for dessert the other day. I heard from one DD "Mom, you know I don't like banana pudding" however; one bite and she quickly changed her mind. Everyone in the family loved the graham cracker crunch...we all felt it took the recipe to a whole new level. Thanks for posting this tasty treat. Made and reviewed for the 40th AUS/NZ Recipe Swap.
1

cup graham cracker crumbs

3

tablespoons butter, melted
1⁄3 cup milk chocolate chips, melted

4

bananas, sliced
5 1⁄8 ounces instant vanilla pudding, prepared and chilled (can sub 1 Large Sized Box of Cook & Serve or Your Own Recipe)

1

cup cold heavy cream, whipped to firm peaks with 1 teaspoon vanilla extract and 1 tablespoon confectioners' sugar
Preheat the oven to 325 degrees. Butter a baking sheet. In a medium bowl, stir the graham-cracker crumbs and melted butter together. Press the crumb mixture onto the baking sheet in a circle that is approximately 8 inches in diameter. Bake for 8 minutes. Set aside to cool.
Use a small spoon to drizzle the melted chocolate chips thickly over the baked crumbs on the baking sheet. Let the crunch sit until the chocolate is firm. [The chocolate holds the crunch together in large pieces so it does not crumble when it is transferred to the pudding. I always have a problem with this step, but if it crumbles it doesn't alter the flavor :-)].
In the bottom of a 2-quart serving bowl, spread 1/2 of the banana slices. Spread about 1/2 of the pudding over the bananas and sprinkle about 1/3 of the graham crunch (breaking it up with a spatula as you transfer it) over the pudding. Repeat the layering once.
Spread the whipped cream over the crunch and sprinkle with the remaining crunch. Refrigerate for at least 2 hours or overnight and serve cold.