Banana Poppy Seed Quick Bread
Boomette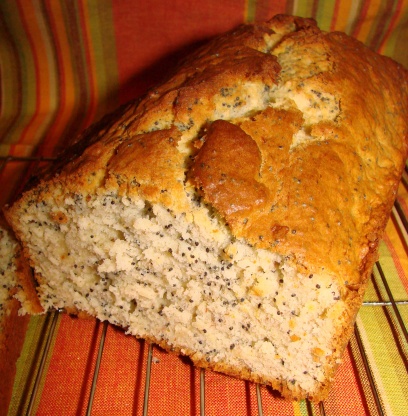 From a Dole pamphlet I've had sitting around since 1986! This is a nice twist on a standard banana bread or poppy seed bread. I love the light hint of lemon in the bread too with the lemon zest.

This is a yummy treat. I simply love the poppy seed addition. It's a mild flavored bread but the lemon is noticeable. Mine was well baked at 50 mins (I used an 8x4 glass pan) but do be sure to oil or butter the pan well. Mine stuck just a little bit on the sides, not enough to cause any problems and a table knife around the sides took care of it very nicely. It's a moist and lovely loaf that you'll love if your a banana bread fan.
Mash bananas with a potato masher until all large pieces are broken down (or you can use a blender and puree the bananas) - you should receive about 1 cup of banana total. If not, then add enough banana to equal one cup.
Cream together the sugar and butter until light and fluffy.
Beat in eggs and grated lemon peel until blended.
Combine the flour, baking powder, salt and cinnamon.
Beat the bananas into the wet ingredients alternately with the dry ingredients -- repeating twice ending with dry ingredients.
Hand stir in the poppy seeds.
Pour into a well-greased (or sprayed) 9x5 inch loaf pan.
Bake at 350* F for 50-60 minutes until pick inserted in center comes out clean. (The original recipe called for 60-70 minutes but mine is usually done before 60 minutes).
Cool in pan for 10-15 minutes before turning out onto a wire rack to completely cool.