J-Lynn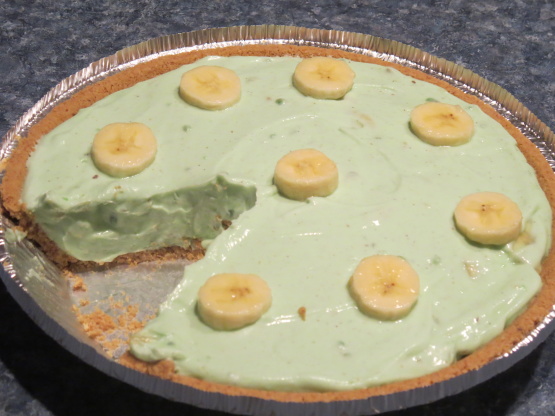 This sounds so good. I want to make it soon and am posting it so I won't forget it. Found in Easy Home Cooking.

Top Review by J-Lynn
Great easy recipe! I used a pre-made 10inch graham cracker crust in the photo, so it was even quicker! It doesn't taste gourmet of course, but I have to give it 5 stars because my husband couldn't get enough of it! I didn't measure the Cool Whip, and just dolloped a large amount in; the pie would have held its shape better if I had used the specified amount.
Combine graham cracker crumbs and margarine in small bowl, stirring with fork until crumbly. Press onto bottom of 9-inch pie plate.
Prepare pudding mix according to box directions, using 2 1/2 cups milk. Gently stir in banana and cinnamon; fold in 1 cup whipped topping.
Pour into prepared crust.
Refrigerate at least 1 hour.
Top with additional whipped topping before serving, if desired.