Banana Pineapple Yogurt Smoothie

This refreshing drink uses nonfat plain yogurt that is frozen before it is added to the blender. The yogurt should be frozen at least 6 hours ahead.
Directions
Place yogurt in a small bowl, cover and freeze at least 6 hours or up to 2 days.
Transfer frozen yogurt to blender.
Add bananas, pineapple juice, ice cubes and brown sugar and blend until smooth.
Divide among 4 glasses.
Most Helpful
My, oh my! What a treat! Oh it was so good! WIll definitely be making often!
I needed a quick smoothie for breakfast this morning, so didn't have time to freeze the yogurt. This is a delicious smoothie! I love how the brown sugar and banana really mellows the flavor of the pineapple. This drink is smooth and the taste is wonderful! Thanks, Bev~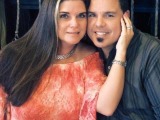 I didn't have time to freeze the yogart...but it turned out great anyways. I used the greek sytle - fat free yogart. I also added a 1/2 cup of frozen mango/pineapple and a scoop of whey protein. (I only used one Tablespoon of brwn sugar also)