Banana-Pineapple Upside-Down Cake
twissis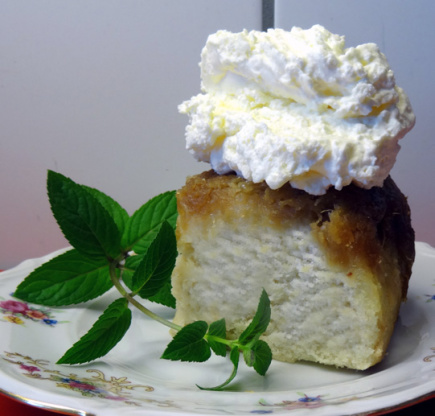 Another version of Hawaiian upside down cake! From University of Hawaii website.

Made exactly as written for your Football Pool win & to serve guests as dessert for a dinner party last night. I served it w/a lrg dollop of whipped cream & garnished w/fresh mint from our balcony garden. This was an easy-fix plus very dense & moist. I did have to bake it closer to 40 min than the 20-30 min stated in the prep before it tested done. When out of the oven, I let it cool until just warm to the touch & then inverted it on my serving platter. It slipped easily & perfectly out of the baking pan. Delicious & well-received. Congrats on your FP win. :-)
Cream butter and sugar, add beaten egg.
Sift flour, baking powder and salt, add gradually with milk to butter mixture. Fold in mashed banana.
Melt butter and sprinkle brown sugar through it on bottom of pan, 8 inches square or small angel food pan.
Add well drained crushed pineapple and chopped nuts. Pour batter over this mixture and bake in pre-heated oven of 350 degrees for 20-30 minutes.