Dawn A.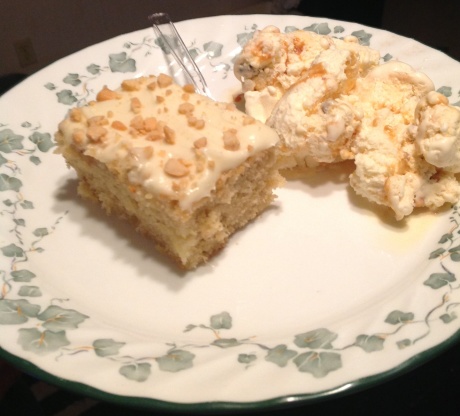 This cake is excellent! This is so rich!! From a co-worker who got it from a website.
Cake Instructions: Combine first 5 dry ingredients in large bowl.
Measure 1 cup undrained pineapple.
Reserve rest for icing.
Add measured pineapple and remaining ingredients to bowl.
Mix just until thoroughly combined.
Turn into greased and floured 10" cake pan.
Bake at 350 F for 50 to 70 minutes, or until cake tester comes out clean.
Cool on rack 20 minutes, then remove from pan and cool completely.
Icing Instructions: Drain reserved pineapple well.
Whip margarine, icing sugar and pineapple juice together until smooth.
Fold in pineapple.
Spread on top and side of cake.