Ingy1171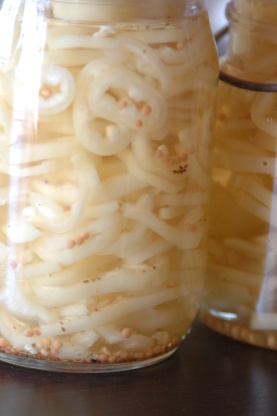 Similar to pepper rings purchased at the store, except we use whatever kind of pepper we have in the garden.

I just got done making these. These look so wonderful in the jars. Was extremely easy to make. Hubby can't wait to have these on a sub or on pizza. Thank you for such a wonderful recipe.
Wash and slice peppers-you may seed them if you want to.
Pack in jars.
Boil vinegar, sugar, salt, alum, and turmeric.
Should be enough liquid for 2 pints.
Pour vinegar mixture over peppers in jars.
Seal with lids and screw rings.
*myfirst ones were mushy, second batch was ok**i used green chiles and jalapenos*.