Banana Pecan Whole Wheat Mini Muffins
Nimz1466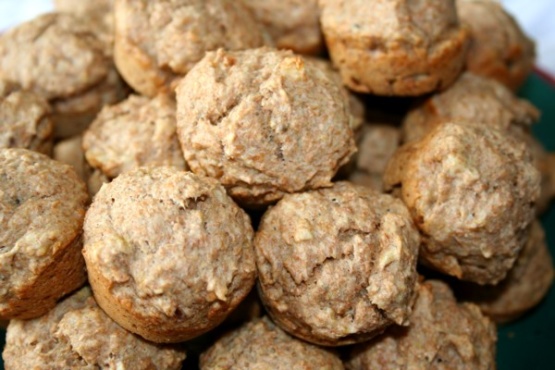 I adapted this from an Old Betty Crocker cookbook. My husband was terribly disappointed when they were all done!

Absolutely DELICIOUS! I used 1/4 cup butter & 1/4 cup applesauce, Splenda & omitted the pecans. Baking time was around 15 min. I got so many mini muffins out of just making 1/4 of the recipe-around 15! So the full recipe makes A LOT so be ready to freeze some! Thanks for such a great recipe. Might try adding some mini choc chips next time.
Preheat the oven to 350°F.
Spray your mini muffin pans with non stick spray.
Beat the butter and sugar together.
Add the egg and mix well.
Then add the oat bran and mix well.
In a separate container combine the mashed banana with the 2 tablespoons water.
Mix the dry ingredients together.
Add the banana mix to the butter alternatively with the mixed dry ingredients. Mix well.
Add the vanilla and the pecans.
Bake for about 15 minutes or until the muffins start to brown.