Banana-Pecan Pie (Raw Foods)
mliss29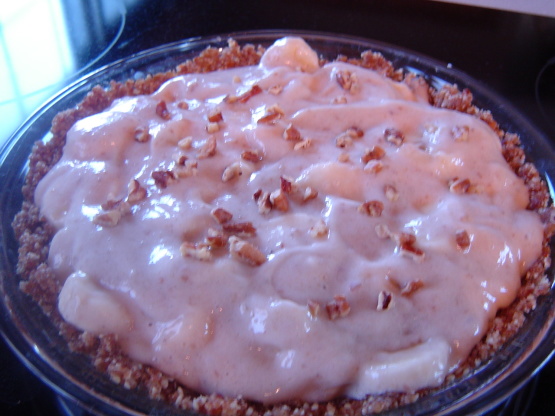 This pie was inspired by Wendys Kitchen's delicious Strawberry Pie which is made of nothing but raw fruit and nuts. (Well, and a little splash of vanilla.) Cooking time is chilling time. This pie tastes very good, but it does turn brown fairly quickly. I will try 2 Tblsp lemon juice next time.

i LOVED this pie! the crust is absolutely amazing - and so simple! much quicker than a baked pie. it's treats like this that make the raw diet do-able. my roommates (who are NOT raw food-ists) had mixed reviews, however. One liked it, and two thought it was strange. I, however, have been waiting to get home to have another slice all afternoon! I highly recommend it for raw food eaters!
Pie shell: Grind the pecans, dates, and vanilla in a food processor until finely ground. Press mixture evenly into a pie plate.
Binder: Blend dates, bananas, and lemon juice in the food processor until smooth.
Fruit Filling: Cut bananas into 1/4 inch circles, fold into the binder, and fill the pie shell.
Topping: Sprinkle about 1 Tablespoon of chopped pecans on top, cover with plastic wrap, and refrigerate for a couple hours.