diner524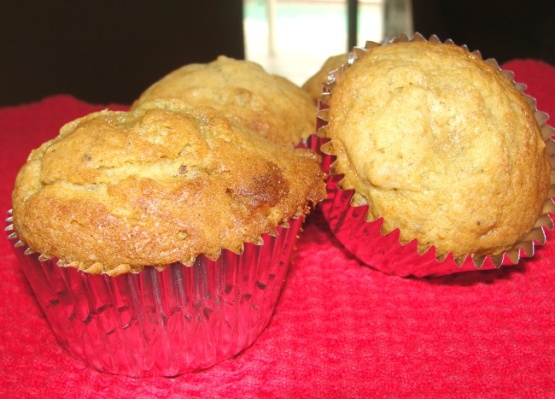 I slice this bread so thick when I eat it, it's almost embarrassing! This banana bread is rich, super moist and flavorful. It's hard to stop at just one slice.

At Last, a full size loaf of banana bread! Not only does it make a full sized load but it's also delirious. I've been adding nuts to a lot of things lately and chose to swap out the pecans for chocolate chips :D. I used 1/2 a cup of Splenda brown blend for the sugar and all else was as ask (except the chips of course). In this recipe the 3 banana's was enough to produce a very nicely banana flavored bread. Made on Life is Good's recommendation for Best of 2013 Event.
In a large bowl, cream butter and sugar until light and fluffy. Add eggs, one at a time, beating well after each addition. Beat in mashed bananas.
Combine the flour, baking powder, baking soda and salt; add to creamed mixture. Fold in pecans.
Transfer batter to a greased 9-in. x 5-in. loaf pan. Bake at 350 degrees Fahrenheit for 50-60 minutes or until a toothpick inserted near the center of the loaf comes out clean.
Cool for 10 minutes before removing loaf from pan to a wire rack.
For an equally delicious spread: combine 1 pkg. (8 oz.) cream cheese, softened, and 1 cup canned crushed pineapple, well drained. It's delicious as a spread for your banana bread.