Banana Pecan Buttermilk Pancakes
Prep 15 mins
Cook 15 mins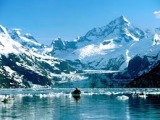 This is one of the best pancake recipes I have tried. It's by Daphne Oz. Not only are the pancakes delicious, they are pretty healthy, too! Note: If you don't have buttermilk, you can make your own: add 1 T white distilled vinegar to 1 C milk and let sit for 5 minutes (you would need to do 1 1/2 that for this recipe to yield 1 1/2 C buttermilk). I like to use 100% real maple syrup over these pancakes.
Directions
Finely grind 1/2 C of the pecans in a food processor, or chop them into a fine powder. Coarsely chop the remaining 1/4 C pecans and reserve. Transfer the ground pecans to a large bowl. Add the flours, sugar, baking powder, salt and flaxseed (if using) and whisk until combined.
In another bowl, whisk the eggs, butter, milk, buttermilk and vanilla until frothy. Pour the wet ingredients into the dry ingredients and stir until just combined (don't overmix or your pancakes won't rise properly). Fold the reserved 1/4 C of chopped pecans into the batter.
Heat a large skillet (I use non-stick) over medium heat. Brush the the skillet with butter; keep the surface buttered well throughout cooking to prevent the bananas from sticking. Pour 1/4 C of the batter onto the skillet for each pancake. Lay about 5 banana slices onto each onto each pancake and cook until small bubbles form and pop on the surface and the bottom is golden brown. Flip the pancakes and cook until golden brown, 6-8 minutes.
Garnish with extra bananas and pecans and drizzle with syrup and enjoy!
Most Helpful
These pancakes were light, fluffy and really wonderful! I omitted the banana and topped the pancakes with Recipe #106262 and warm maple syrup. The pecans went really well with the apple topping. My family thinks I'm awesome today. :-)

LIG, these pancakes were wonderful, just wonderful. They were filled with super flavors, great textures and were quick and easy to make. Perfect to serve to family and friends.Made as written but omitted whole wheat flour and flax seeds (allergies). This recipe made beautiful large, fluffy, pancakes that will more than satisfy your cravings. I garnished the pancakes with banana slices and some pure maple syrup. I will be enjoying the rest of the pancakes later in the week, as I have frozen the rest. Can't wait to enjoy them again. Thank you so much for sharing. Kudos for a recipe that has gone into my Best of 2014 cookbook.