Prep 15 mins
Cook 40 mins
I once had a few ripe bananas and a few ripe peaches which needed to be used. I thought peach banana bread might taste good so combined a few recipes and added a little of my own. My two-year old loves it.
Directions
Preheat oven to 350 degrees.
In a medium bowl combine flour, sugar, soda, powder and spices. Make well in center.
In small bowl, whisk eggs. Whisk in oil, vanilla and banana.
Pour wet ingredients over dry and stir just until moistened.
Fold in peaches. Do not over mix.
Divide between two greased 8x4" loaf pans. Sprinkle each with 1 1/2 T cinnamon sugar.
Bake 40-50 minutes or until tootpick comes out clean.
Most Helpful
Delicious. I halved the recipe as I only have one loaf tin, and also dropped the sugar to 1/2 cup. Moist, tasty and fragrant.
Excellent!<br/><br/>I made it with nutmeg, though, instead of all-space (who the heck has "allspice" just lying around? Seriously.)<br/><br/>DELICIOUS! Will definitely make again, and probably add nuts, raisins, or who knows what else.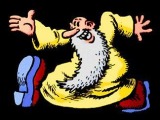 I modified this recipe slightly. Instead of sugar I used only 1 cup Splenda. I used 2 T of oil, then added 1/3 cup of the juice (not syrup) that comes in fruit cups for the balance of liquid. I used 1 cup of diced peaches/pears and 1 cup of mashed bananas as directed.
It turned out great! I did notice that the fruit pieces settled to the bottom of the pan, and as I only used 1 4x8 loaf pan, it was really tall, and took an hour to cook through. Its a leaner version than I usually make, and turned out pretty good considering the low fat, low sugar options!